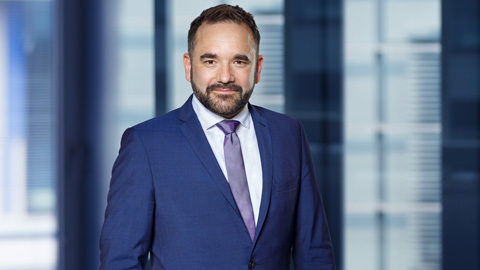 Stefan Labesius
Phone +49 40 35610-0 | labesius[at]krohnlegal.de |
Since the beginning of his legal practice in 2012, Stefan Labesius has been advising and representing companies in matters of intellectual property law, especially in trademark law, design law and unfair competition law, as well as copyright issues. He has extensive experience in building and maintaining international trademark and design portfolios as well as in enforcing and defending intellectual property rights, also abroad. In this context, he also appears before the EU courts.
In IT law, Stefan Labesius primarily assists our clients when planning, negotiating and implementing IT projects, e.g. IT outsourcing, software and hardware development or IT service agreements. In addition, he assists in drafting, reviewing and negotiating licence agreements with an international scope, in particular also in open source and open content licences.
Since 2019, Stefan Labesius has been a specialised lawyer (Fachanwalt) for IP law. Before joining KROHN Rechtsanwälte in June 2022, he worked for a renowned patent firm in Hamburg.
Education
Universitäten Osnabrück, Freiburg und Freie Universität Berlin
Referendariat beim Kammergericht Berlin
Publications
Keine geschäftliche Nutzung einer Marke für Open Source Software bei Fehlen einer Gewinnerzielungsabsicht, Anmerkung zu OLG Köln, Urt. v. 30.9.2016 – 6 U 18/16, in: Computer und Recht (CR) 2018,

9-12

Lizenzvertragliche Beschränkung der Erschöpfung als Wettbewerbsverstoß. Anmerkung zu OLG Hamburg Beschl. v. 30.4.2013 – 5 W 35/13, in: ITRB 11/2013,

251-252

GPL-Verletzung durch Angebot unvollständigen Quellcodes. Anmerkung zu LG Hamburg, Urt. v. 14.6.2013 – 308 O 10/13 – FANTEC, in: ITRB 9/2013,

205-206

Zur Auslegung von Unterwerfungserklärungen als Anerkenntnis – zugleich Besprechung von OLG Celle, Urt. v. 15.11.2012 – 13 U 67/12 – Medizinische Fußpflege, in: WRP 2013,

312-314

Streitwertbemessung bei der hilfsweisen Geltendmachung unterschiedlicher gewerblicher Schutzrechte – zugleich Anmerkung zu OLG Frankfurt a. M., Urt. v. 4.6.2012 – 6 W 60/12 – Streitwertaddition, in: GRUR-RR 2012,

317-319

Anmerkung zum Urteil des OLG Düsseldorf v. 24.4.2012 –

I-20 U

176/11 – Enigma (Titelschutz bei Open Source Software), in: Computer und Recht (CR) 2012,

436-438

Kontent i Pravo v. Masterhost, Presidium of the Supreme Arbitration Court of the Russian Federation, Judgment of 23 December 2008, No. 10962/08, translation and comment, in: JIPITEC 1 (3) 2010,

179-184

Urteil des Präsidiums des Obersten Arbitragegerichts vom 23.12.2008 (Nr. 10962/08) – Kontent i Pravo v. Masterhost, Übersetzung und Anmerkung, in: GRUR Int. 1/2011,

84-88

Werkbegriff und Werkarten im novellierten Urheberrecht der Russischen Föderation, in: GRUR Int. 12/2009,

994-1002

Die Systematik der Gesetzgebungskompetenzen im Verfassungsgefüge der Russischen Föderation, in: Osteuropa-Recht, 1/2009,

24-39
Memberships