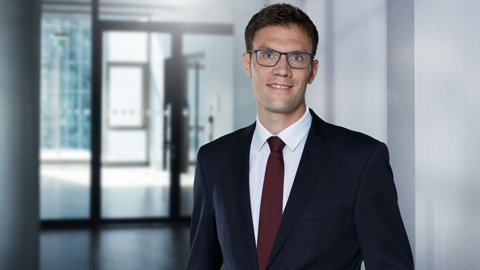 Jan Malte Wachsmuth
Phone +49 40 35610-0 | wachsmuth[at]krohnlegal.de |
Since the beginning of his career in 2011, Jan Malte Wachsmuth advises and represents national and international clients in particular on all issues of trademark law, but also in related fields such as unfair competition law, designs, copyrights and IT law including data protection issues.
Jan Malte Wachsmuth is a specialised lawyer (Fachanwalt) for IP law.
Prior to joining KROHN Rechtsanwälte in August 2019, Jan Malte Wachsmuth worked for eight years at a world-leading law firm in Hamburg and Alicante, Spain, where during a secondment, he deepened his knowledge of EU trademark and Community design law. From numerous court and office proceedings in Germany and before the European instances, Jan Malte Wachsmuth has gained special experience in litigation and procedural law.
Education
Universitäten Freiburg und Aarhus (Dänemark)
Referendariat beim OLG Hamburg
Publications
Zum Verständnis englischsprachiger Begriffe in der EU und den Auswirkungen auf die markenrechtliche Verwechslungsgefahr, Anmerkung zu EuG "MultiSense" / "TasteSense", in: GRUR-Prax 2020, 257
Zur rechtserhaltenden Benutzung einer Marke durch inländische Bewerbung einer im Ausland durchgeführten Veranstaltung, Anmerkung zu BPatG "Alpenglühen" / "Alpenglühn", in: GRUR-Prax 2020, 152
Zur Berücksichtigung unterschiedlicher Ausspracheregeln beim klanglichen Vergleich von identischen Wortbestandteilen, Anmerkung zu BPatG "Frucht-Tiger" / "Tiger Food", in: GRUR-Prax 2020, 82
Anmerkung zu OLG Stuttgart, Urteil vom 25.07.2019, Az. 2 U 73/18 – "Hohenloher Landschwein" / "Hohenloher Weiderind", in: ZLR 2019,

857-865

Keine rechtserhaltende Benutzung einer zweiteiligen Marke durch Verwendung eines ebenfalls als Marke geschützten einteiligen Zeichens, Anmerkung zu BPatG "Rias", in: GRUR-Prax 2019, 461
Grundsätze des BGH zur Beurteilung der kennzeichenmäßigen Benutzung bei Verwendung von Modellbezeichnungen in der Bekleidungsbranche, in: GRUR-Prax 2019,

203-204

TextilkennzeichnungsVO: Aktuelle Entscheidungen und Auswirkungen für die Praxis, in: GRUR-Prax 2019,

200-202

Alter, was geht? Zulässigkeit und Grenzen von Traditionswerbung aus wettbewerbs- und markenrechtlicher Sicht, in: WRP 2016,

678-684
Memberships